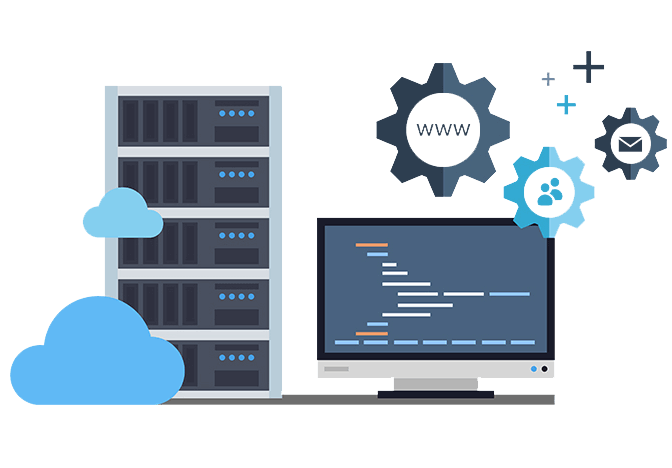 Server management entails Monitoring of your server and apps running on the server, Checking their status, uptime, and monitoring for any new or recurring issues.
This will ensure that your Server operate smoothly and avoid downtime or loss of data. Regular maintenance will keep the server running as expected and will help avoid a total or partial network failure.

Network performance monitoring is the process of visualizing, monitoring, optimizing, troubleshooting and reporting on the service quality of your network as experienced by your users.

For Server Management and Monitoring:
We'll monitor your servers 24/7, restore failed services, and keep your systems updated.
You will have 24/7 access to server experts for proactive and on-demand server administration activities.
We support online businesses that include digital marketers, web hosts, data centers, SaaS companies, and more.
With the wide scope of industries & companies we assist, we support a lot of technologies, both widely used & niche software.
We will take care of your servers while you take care of your business.

If you have many servers on which you need 24/7 monitoring, updates and periodic assistance like app troubleshooting, then you are in the right place.

Here at Ibmi Media, We offer 247* All round the clock remote support which includes Server monitoring, proactive and on-demand Linux administration.

We do the following:
24/7 server monitoring and rescue:

We will monitor your servers 24/7, where each alert is inspected by a Certified server administrator. If we see your server is slow or unresponsive, we'll login to your server within minutes, resolve the underlying issue, and restore the services.

Security monitoring:

Our monitoring system will notify us if it detects a brute force, DoS or spam attack on your server. We will then login to your server, blacklist the offending IPs and reinforce the server's defenses against these new attacks, so that your services remain secure and accessible.

Initial system tuning and hardening:

When you signup, we'll audit your server and fix security weaknesses and performance bottlenecks. This process of standardization will bring your server up to industry standards and make your services stable.

Regular server updates:

We'll keep your server updated and patched at all times so that you don't have to worry about security vulnerabilities.

Server Packages patching:

We are always on the lookout for emerging threats (like the POODLE attack or the Heartbleed). We will patch your servers by quickly implementing a hotfix until an official patch is available.

Backup monitoring and audits:

Backups can fail for all sorts of reasons; network errors, disk space issues, high server load and other small issues. That is why we monitor the backup process and respond to any failures detected, so that you will always have a reliable backup when you need it the most.

Security audits and hardening:

We will periodically audit your server for insecure settings, hidden malware or vulnerable software. Based on our findings, we will re-secure network settings, service configurations, firewall settings, and much more.

Performance tuning:

We will fix recurring performance issues (eg. high load), and optimize your service settings periodically to keep your server running at it's best performance.

Hardware fault resolution:

If your server hardware fails (eg. HDD, RAID, Memory, etc.), we will work with your data center to get a replacement and restore any lost data from backups.

Website monitoring and rescue:

Sometimes your websites maybe inaccessible while the web server itself will be online. We will monitor for website errors such as 502 Bad Gateway, 403 Forbidden, etc. and fix your website within minutes.

24/7 on-demand support:

Ibmi Media will be your company's server expert available 24/7. Day or night, week day or week end, if you need help, you'll get quick access to an experienced server administrator within minutes.

Infrastructure design and setup:

We will help you with setting up new services and servers. This can include scaling up your application to multiple servers, configuring a new service (eg. Nagios), setting up a reverse proxy, or anything else that need expert advice.

Website maintenance:

We will keep your web application, themes and plugins/extensions updated so that you don't have to worry about security vulnerabilities.

Small website fixes:

If you need to fix a website error, install a new font pack, or change a theme layout, we can do it for you.

Server / App migrations:

Our server experts can help you migrate your business apps to a new server with minimal downtime and zero data loss.

Mail error fixes:

Never again worry about those cryptic errors in your mail account. Just let us know, and we'll fix it for you.

SSL setup and renewals:

SSL renewals can be tiresome. It involves CSR generation, Cert application and server updates. Not any more. We will do all for you.

Server user management:

If you are a service provider who needs to add users, edit permissions, manage resources, and monitor for abuses on your server, we can help you with all that. We will take care of quota management, user subscription management, resource allocation, and more.

Cluster / LB maintenance:

We will monitor and maintain your clusters and load balancers (for web & databases) to make sure they remain online, synched up and responsive at all times.