Outsourced Web Hosting Support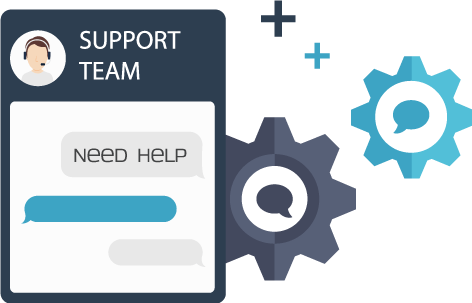 Looking for a 24×7 Outsourced web hosting support team or server Management Company that can handle chats and tickets for your web hosting business with unmatched quality?
Look no further! Ibmi Media is one of the most trusted and best server support Team that provides outsourced web hosting technical support, 24×7 proactive server #monitoring, remote server management and 24×7 outsourced web hosting support on OS like Linux, Windows and control panels like cPanel, Plesk, DirectAdmin and almost every web hosting technologies for web hosts, server owners and data centers of all sizes.
We provide the right level of customer service that will help web host to build trust with customers. Which means more business, more sales, and more profit!
Here at Ibmi Media, we support online businesses such as digital marketers, web hosts, data centers, SaaS companies, and so on.
Here you will see Our Tech Expert's Supported Technologies we service all for the satisfaction of our customers.
1. Server systems
We work with the best server systems such as Linux/Unix, Windows, Web Servers, Database Servers, and Mail Servers.
Linux or Unix:

This includes, Redhat, CentOS, Fedora, Debian, Ubuntu, FreeBSD, Cloud Linux and so on.

Windows:

This includes, Server 2008 / 2012 / 2016 / 2019 and Office 365.

Web servers:

We support Apache, Nginx, Litespeed, IIS, Varnish.

Database servers:

Including, MySQL, MSSQL, MariaDB, PostgreSQL, Galera / NDB.

Mail servers:

Such as, Postfix, Exim, Qmail and Exchange.
2. Virtualization
Also, we support different Virtualization systems, and Cloud Systems as outlined below.
Virtualization

: Such as Hyper-V, KVM, Proxmox / LXC, Virtualizor, Docker, OpenVZ, Xen, Virtuozzo, SolusVM, OnApp, oVirt / RHEV, VMWare and Citrix XenServer.

Cloud systems:

Popular Server Providers Including, AWS, Google Cloud, Azure, DigitalOcean, Vultr, Linode and other cloud providers.
3. Web hosting
Our Servers extends to Hosting support for your business with Applications and Management Systems such as, Control panels, Web apps, and Billing / Ticketing.
Control panels:

We work with popular control panels such as cPanel/WHM, Plesk, Direct Admin, InterWorx, ISP system, CyberPanel, Virtualmin, and so on.

Web apps:

Such as, WordPress, Magento, Drupal, Joomla, DNN, and so on.

Billing / Ticketing:

Including, WHMCS, OTRS, HostBill, SalesForce and so on.