Explore information related to cannotretrievecorefiles vm is in an invalid state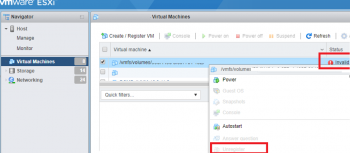 This article will guide you on the steps to resolve the Invalid State of a Virtual Machine on VMWare #ESXi error which relates to #orphaned virtual machines.
A virtual machine can show up as invalid or orphaned in these situations. After a vMotion or #VMware DRS migration. After a VMware HA #host failure occurs, or after the #ESX host comes out of maintenance mode. A virtual machine is deleted outside of vCenter Server. #vCenter Server is restarted while a migration is in progress.