Explore information related to customer support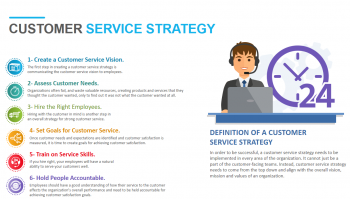 This article will guide you on the customer service strategies that we follow to refresh the existing one based on some aspects.
The Purpose of the Service Strategy is to define the perspective, position, plans, and patterns that a service provider needs to be able to execute to meet an organization's #business Outcomes.
There are five major aspects of service design. These are service solutions, management information systems and tools, technology and management architectures and tools, processes and measurement systems.
Winning #Customer #Service #Strategies:
1. Optimize Agent Training. Invest in an agent training program to ensure your agents are empowered and prepared to meet customer needs.
2. Choose the Right Tools..
3. Improve Call Center KPIs..
4. Personalize the Experience..
5. Make Data-Drive Decisions..
6. Optimize Quality Assurance (QA).
7. Offer Omnichannel Support.
In this article, you will see the different pros and cons to #outsourcing #customer #service. However, each case is unique. We should know best if outsourcing customer service could be the right way.
Outsourcing to someone who specialises in delivery of that part of your process, and therefore has up-to-date systems, technology and staff, can improve the quality of that service by reducing costs, improving final output quality or freeing up your internal staff for other roles they could be performing.
However, the flexible solutions allow you to consider the best-case scenario. Consider all possibilities and pick a scaleable, high-quality solution that best fits the business profile.
Benefits of outsourcing customer service:
1. Focus on core tasks.
2. Lower costs.
3. Promote growth.
4. Maintain operational control.
5. Offer staffing flexibility.
6. Provide continuity and risk management.
7. Develop internal staff.