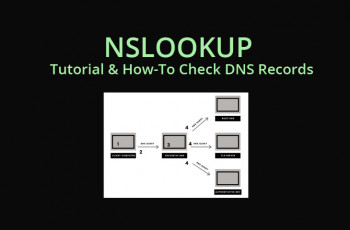 This article covers how to troubleshoot DNS issues. One of the handiest tools for troubleshooting DNS failures is the NSLOOKUP command, which you can access from a Windows Command Prompt window. Simply type NSLOOKUP followed by the name of the host for which you want to test the name resolution.
Basically, DNS errors are caused by problems on the user end, whether that's with a network or internet connection, misconfigured DNS settings, or an outdated browser. They can also be attributed to a temporary server outage that renders the DNS unavailable.
DNS: online name resolution:
The domain name system (DNS) is a directory service used for transforming alphanumeric domain names into numeric IP addresses.
A decentralized process, name resolution generally takes place on DNS servers' networks distributed throughout the world.
Every internet address you enter into your web browser's search bar is then forwarded by your router to a DNS server. This server then dissolves the domain name into a numeric sequence and returns a corresponding IP address.
Should the DNS server fail to produce an answer, then it won't be possible to access the desired website; the result is the error message 'DNS server not responding'.
To clear your DNS cache:
1. On your keyboard, press Win+X to open the WinX Menu.
2. Right-click Command Prompt and select Run as Administrator.
3. Run the following command: ipconfig /flushdns.
To Troubleshoot DNS issues:
The root of such irritating messages can often be traced back to the server outage. In such cases, the DNS server is temporarily unavailable. Most of the time, these problems can be corrected by changing browsers, switching a few of your firewall settings, or restarting your router.
1. In order to rule out that the connection problem isn't being caused by your web browser, carry out a test by attempting to logon on to the desired web page with alternative applications.
2. In case you aren't able to achieve your desired results simply by changing browsers, then the next step is to rule out Windows Firewall as the possible culprit.
3. Connection problems can often be solved by restarting the server. Most devices include a power button specifically for this purpose. Should this fail to yield any results, then it looks like a hard reboot may be in store; this is done simply by pulling out the power plug.
4. If you have ruled out common causes of error such as the router software crashes or conflicts with Windows Firewall, then changing your DNS server could be the solution.
How to Check DNS server?
You can find out whether changing DNS server has solved the problem by carrying out a simple test.
Enter the URL of a well-known site in your browser (e.g. www.google.com).
If the site can be accessed it means the DNS server is functioning properly.
If the site can't be accessed, you can enter the following IP address into your browser: 172.217.16.195.
This is one of Google's IP addresses. If Google doesn't appear after entering the address, it probably means there's a general internet problem rather than a problem with the DNS server.