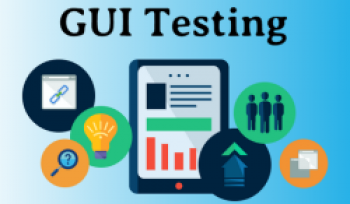 This article covers GUI testing which refers to testing the functions of an application that are visible to a user. In the example of a calculator application, this would include verifying that the application responds correctly to events such as clicking on the number and function buttons.
Basically, the web UI testing revolves around the graphical user interface (GUI) testing that includes testing of both the functionality and usability of the website or the web app. By specifically using web UI testing, it refers to testing GUI elements like fonts, layouts, buttons, checkboxes, images, colours, and so on.

What we check in GUI Testing?
1. Testing the size, position, height, width of the visual elements.
2. Verifying and testing the error messages are displayed or not.
3. Testing different sections of the display screen.
4. Verifying the usability of carousel arrows.
5. Checking the navigation elements at the top of the page.

GUI Testing is a software testing type that checks the Graphical User Interface of the Software.
The purpose of Graphical User Interface (GUI) Testing is to ensure the functionalities of software application work as per specifications by checking screens and controls like menus, buttons, icons, and so on.

Benefits of GUI Testing:
1. Tests the user interface from the users perspective.
2. Efficiently reduces the number of risks towards the end of development life cycle.
3. Offers developers and testers ease of use and learning.
4. Helps validate the compliance of various icons and elements with their design specifications.