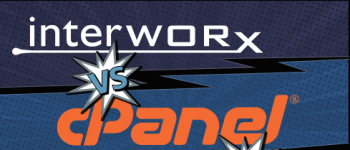 This article covers InterWorx and cPanel and gives an idea of how to choose the best control panel for customers. Basically, many factors depends to choose the right panel like InterWorx and cPanel.
InterWorx includes two main sections:
1. NodeWorx (similar to WHM)
2. SiteWorx (the analog of cPanel)
NodeWorx is a system administrator interface to configuring, managing and monitoring your server.
From the NodeWorx amin, you can securely manage multiple SiteWorx accounts.
SiteWorx is a separate control management account and website owner interface that provides access to the tools for managing your websites, email, and databases.
Differences between InterWorx and cPanel:
1. Unlike cPanel, with InterWorx, you can create multiple administrator accounts and provide them with the desired permissions.
This is especially convenient if your clients have web developers or people who need to manage email only, for example.
cPanel has only one administrative account, and no more additional accounts can be created.
2. InterWorx doesn't have complicated licensing options like cPanel.
cPanel recently implemented an account-based pricing model that may have resulted in a substantial price increase.
Whereas InterWorx lets you host multiple accounts on the server without increasing your license cost as it is licensed per server.
3. cPanel supports PostgreSQL, Mailman mailing lists, NodeJS, server-side Java, Ruby on Rails, and the DNSSEC protocol.
InterWorx does not support those things at this time. Also, InterWorx does not support CloudLinux, only Linux and CentOS are supported.
4. InterWorx supports all of the same languages for NodeWorx as for SiteWorx.
In addition, both NodeWorx and SiteWorx share a wide variety of supported themes. WHM only supports US English and one theme for now. cPanel has two themes.