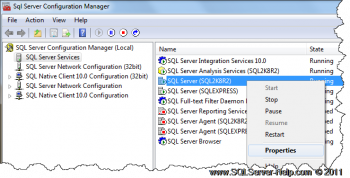 Steps for Deleting an alias using SQL Server Configuration Manager ?
#SQL aliases are used to give a table, or a column in a table, a temporary name. Aliases are often used to make column names more readable. An alias only exists for the duration of the query.
To find my SQL Server #alias name:
Expand SQL Native client #configuration, and you can find a subfolder Alias. By default, we do not have any alias defined for the SQL Server #instance. In the screenshot, we can see it does not see any items for the Alias. Right-click on Aliases and click on New Alias.
1. Take SQL Server Configuration Manager and go to SQL Server Native #Client Configuration, then click Aliases.
2. We can right-click the alias that we want to delete, and then click Delete.
3. A warning will pop up, we can click on Yes to remove the alias. This removes the SQL Server alias.