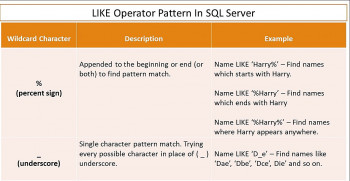 This article will guide to use #Wildcards in #SQL server. Also you will learn how to use and escape wildcards SQL-based databases.
To use a wildcard character within a pattern: Open your #query in Design view. In the Criteria row of the field that you want to use, type the #operator Like in front of your criteria. Replace one or more characters in the criteria with a wildcard character.
i. The wildcard is an advanced search technique that can be used to maximize your search results in library databases.
ii. Wildcards are used in search terms to represent one or more other characters.
iii. The two most commonly used wildcards are: An asterisk (*) may be used to specify any number of #characters.