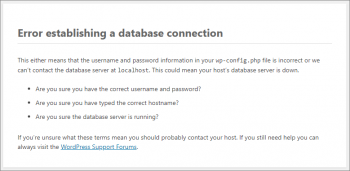 This article covers how to resolve Vultr database error. This condition can happen for a variety of reasons: low RAM or disk space, database corruption, plugin errors, misbehaving themes, incorrect password, MySQL errors, and more.
To fix Vultr Error establishing a database connection (WordPress):
1. Free up some RAM or upgrade the VPS to have more RAM, around 1GB or so should work.
2. Create a cron job in /etc/crontab which checks on the status on the database and restarts it if the process dies. Have the job run every few minutes. If your site runs into heavy traffic, the cron job will restart the database and connections to Wordpress will work again.
3. Also, you could try tweaking the following variables in the "/etc/my.cnf" file:
innodb_buffer_pool_size
table_open_cache
4. You can try to rebuild Nginx PHP-FPM MariaDB.
5. You can restart mysql:
/etc/init.d/mysqld start