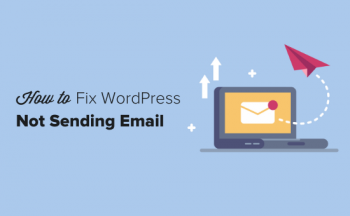 If you're experiencing issues with WordPress failing to send emails – for example, sending forms or other communications – it's usually due to problems with your server configuration.
If your WordPress email is not being sent, switch over to SMTP (Simple Mail Transfer Protocol) instead.
WordPress has several SMTP plugins you can use to force any FROM address you like.
This is important for two major reasons:
i. It allows you to send email directly through your mail server as opposed to the web server.
ii. It allows you to send email FROM another email host.
One major reason why this happens is that webhost disable the PHP Mail function because it is very easy to exploit by spammers and hackers.
When WordPress wants to send emails, it calls on the email server in your webhost using the PHP Mail function, but if this function is disabled by your webhost, your requests to send emails will not even get to your mail server.
WordPress fails to send email as a result of the SMTP server on the underlying operating system not being configured properly.
Proper configuration includes using authentication, configuring the basic SMTP server settings, and following best practices when setting up SPF records, and so on.
This article will guide you on the method to fix WordPress not sending email issue.