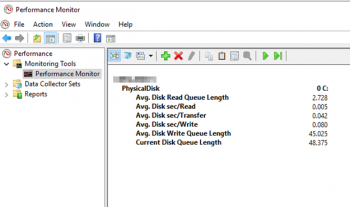 This article will guide you on use performance counters (#Perfmon) to identify SQL server disk bottlenecks.
The performance impact is negligible in updating. Microsoft's intent is that you always write to the performance counters. It's the monitoring of (or capturing of) those performance counters that will cause a degradation of performance. So, only when you use something like perfmon to capture the data.
Reliability #Monitor shows you your system stability history at a glance and lets you see details on a day-by-day basis about events that impact reliability. Reliability Monitor provides a quick view of how stability the system has been.
1. The Performance Monitor is primarily for viewing real time #statistics.
2. By default only one counter is selected; the %Processor Time counter. However you can add additional counters by clicking on the green plus sign.
3. This will allow you to monitor any counters you wish in real time.
4. Difference Between Performance Monitor and #Resource Monitor is that a performance monitor is a program that assesses and reports information about various computer resources and devices.
5. While Resource Monitor is a tool by which you can monitor the usage of your CPU.