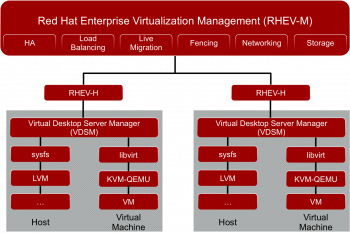 This article will guide you on how to #deploy #virtual #machines in the #RHEV environment and also on #Linux and #Windows virtual machines.
A Virtual Machine (#VM) is a compute resource that uses software instead of a physical computer to run programs and deploy apps. One or more virtual "guest" #machines run on a physical "host" machine.
The main purpose of VMs is to operate multiple operating systems at the same time, from the same piece of hardware. Without virtualization, operating multiple systems — like Windows and Linux — would require two separate physical units.
The two basic types of virtual machines are process and system VMs:
1. A process virtual machine allows you to run a single process as an application on a host machine.
2. A system virtual machine is a fully virtualized #VM designed to be a substitute for a physical machine.
Your virtual machine internet connection goes through your computer and through your router. So they can track your router's #IP address, and possibly track you down at least to your city, if not to individual street or house.