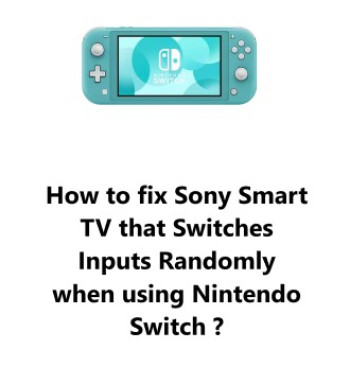 In fact, By systematically troubleshooting each of these common causes and updating your devices, you have a good chance of resolving random input switching between your Sony Smart TV and Nintendo Switch.
Here are 12 possible fixes for the issue of a Sony Smart TV switching inputs randomly when using a Nintendo Switch:
1. Ensure all HDMI cables are fully plugged in:
Check both ends of all HDMI cables connected between the TV and Switch dock.
Unplug and reseat each cable firmly into the ports.
Replace any damaged or loose fitting cables.
2. Turn off HDMI CEC/HDMI Device Link:
Locate the HDMI CEC/HDMI Device Link option in your TV's Settings menu.
Select the option and disable or turn off the feature.
Leave the setting disabled to prevent it from automatically changing inputs.
3. Relocate the Switch dock power cable:
Unplug the power cable from the back of the Switch dock.
Move the power cable away from other nearby power cables, especially those supplying power to the TV.
Plug the power cable back into an outlet and the Switch dock.
4. Disable Quick Start+ or other fast boot features:
Locate options like Quick Start+, Quick Boot or other fast startup options in your TV's Settings.
Turn off or disable any options to fully shutdown your TV when not in use.
Leave these settings disabled to avoid issues with input detection.
5. Perform a hard reset of the Switch dock:
Locate the small black power button on the back of the Switch dock.
Press and hold down the power button for at least 5-10 seconds until the Switch LED lights turn off, indicating it has fully shut down.
Once shut down, press the power button again briefly to restart your Switch and check if the input switching issue is resolved.
6. Update your Sony TV's firmware:
Using your TV remote, navigate to the Settings or Update option.
Select to check for system updates which will search for available firmware updates for your TV model.
If an update is found, select to download and install it.
Once updated, the firmware will often resolve various bugs and connectivity issues, possibly fixing problems with input switching.
7. Check if others report similar issues:
Perform an online search for your Sony TV model number along with phrases like "input switching", "HDMI issues" or "Nintendo Switch problems".
Check recent results and discussion forums for any mention of the same type of input changing issues.
See if others have identified a solution or fix that you have not yet tried.
8. Try a different HDMI port:
Unplug your HDMI cable from the current port connected to your Switch dock.
Connect the HDMI cable to an unused HDMI port on your TV.
Change the input on your TV to the new HDMI port and see if the input switching issue is resolved.
If it seems fixed, the original port may have a hardware defect causing the problem. Continue using the new port.
9. Re-pair your Switch Joy-Con controllers:
Go to System Settings on your Nintendo Switch.

Select "Controllers and Sensors" then choose "Disconnect Controllers".

Press the sync button on your Switch dock and on one Joy-Con controller until they connect. Repeat to connect the other Joy-Con.

Reconnecting controllers can sometimes fix connectivity bugs that extend to the Switch dock. Check if the input switching issue is now resolved.
10. Make sure your Switch ventilation is clear:
Excessive heat can trigger issues with the Switch and dock connectivity.
Make sure the back of the Switch dock and the air vents on the Switch tablet are clear of dust and have proper airflow.
If overheating, remove any objects blocking ventilation, shut down the Switch to cool and reboot to check if the input switching problem has been resolved before continued use.
11. Reseat or replace HDMI cable:
HDMI cable issues are a frequent cause of signal dropout which can change TV inputs.
Unplug the HDMI cable from your devices and check that no pins are bent or damage. Replace if necessary.
Firmly plug the cable back in, making sure it is fully and securely connected at both ends.
See if the input switching problem has been resolved once the cable is replaced or properly connected again.
12. Factory reset your Sony TV:
As a last resort, you may need to factory reset your TV to default settings to fix software issues.
Locate the "Reset" or "Factory Reset" option in your TV's Settings.
Select Reset and follow any on-screen prompts to restore your TV to factory default settings.
Once reset, go back and disable any unwanted options like HDMI CEC/HDMI Device Link before reconnecting your Switch dock and checking if the input switching issue has been resolved.