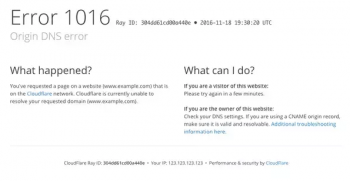 This article will guide you on the methods to resolve #Cloudflare error 1016. The main cause of this error is a failed DNS resolution.
Name resolution is the process of converting a host name to an IP address, so a Name Resolution Failure occurs when the Domain Name System (#DNS) used by your computer can't convert website into the relevant IP address.
To resolve Cloudflare error 1016:
1. Verify your Cloudflare DNS settings include an A record that points to a valid IP address that resolves via a DNS #lookup tool.
2. For a #CNAME record pointing to a different domain, ensure that the target domain resolves via a DNS lookup tool.