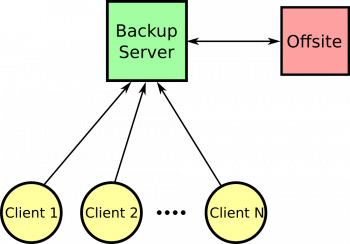 This article will guide you on steps to perform a Duplicity-restore full backup. #Duplicity is an efficient #backup application.
#rsync is a protocol built for Unix-like systems that provides unbelievable versatility for backing up and synchronizing data. It can be used locally to back up files to different directories or can be configured to sync across the Internet to other #hosts.
Incremental Backup captures only the changes made since the last incremental backup. Saves both time and #storage space, and ensures that your backup is up to date. Differential Backup captures only the changes made since the last full backup, not since the last differential backup.
When a normal or full backup runs on a selected drive, all the files on that drive are backed up. This, of course, includes system files, application files, user data — everything. The downside of normal backups is that they take a very long time to run, and in some cases this is more time than a company can allow.
To Use Duplicity with GPG to Securely Automate #Backups on #Ubuntu:
1. Install the Prerequisite Packages.
2. Download and Install Duplicity from Source.
3. Create SSH Keys.
4. Create GPG Keys.
5. Run an Initial Test.
6. Create Your First Backup.
7. Restore a Backup.