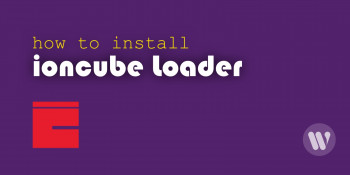 This article will guide you on how to set up the Ioncube loader and fix DirectAdmin Ioncube #errors. Incorrect timezone and misconfiguration in the php.ini file cause errors after installing the Ioncube loader in #DirectAdmin.
ionCube and Zend are fine for code protection, and even if some decompilation service produced usable code from an encoded file, this would typically do little if anything to diminish the benefits from encoding and license enforcement, and may even result in increased revenue in the longer term for the software.
To use ionCube #PHP encoder?
To use this PHP function to output the required data complete the following steps:
1. Connect to your server via #SSH.
2. Create a PHP file.
3. Add the phpinfo() function.
4. Save the file inside the root website folder.
5. Display in a browser.
6. Search the document for ionCube references.
7. Delete the file when done.
To enable Ioncube #loader in #cPanel:
1. Login to #WHM (root)
2. Go to Server Configuration -> Tweak Settings -> PHP.
3. Select #ioncube check box for cPanel PHP loader.
4. Click on Save button.
That's it.
This will enable Ioncube for you in 3rd party PHP binary.